Connecting Bold BI to the Clickhouse Data Source
The Bold BI Dashboard Designer supports connecting the Clickhouse database using the SQL Query (C# API).
How to create Clickhouse data source
To configure the Clickhouse data source, follow these steps:
Click Data Sources in the configuration panel to add a new data connection.

Click CREATE NEW to launch a new connection from the connection panel.

Select the Clickhouse connection in the connection panel.
NOTE: You can also create a data source from the home page by clicking the Data Sources menu from left menu panel and Create Data Source from the data sources page.

Connect to Clickhouse
After clicking a data source, the NEW DATA SOURCE configuration panel opens. Follow the given steps to create the Clickhouse data source:
Enter a name and description (optional) for the data source.
Enter a valid server or host name in the Server Name text box.
Enter the username in the Username text box and password in the Password text box.
Enter the database name in the database text box.
Click Connect to connect the Clickhouse server with the configured details.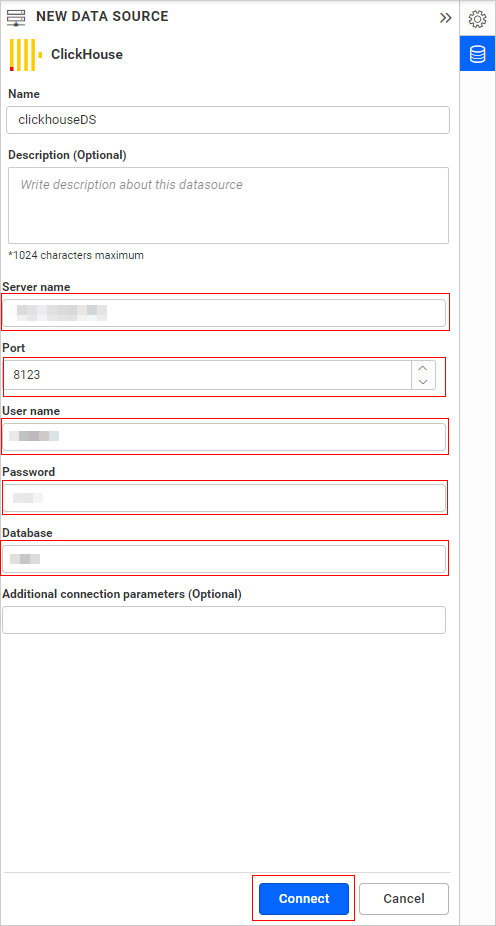 Data Preview
The schema represents the collection list retrieved from the Clickhouse server. This dialog displays a list of schemas in the treeview and their corresponding values.

Drag and drop any table and Click update button to preview the data.

By default, the data design view opens with design view. Switch to the code view by enabling the slider option in the tools pane in data design view as shown in the below image.

Click Save to save the data source with a relevant name.
NOTE: In future, you can edit the connection information using the Edit Connection option.